In December, several thousand runners are expected to gather in Marikina City as the Nike We Run global series returns for it's third edition in Manila. The run has only one category, buddy run for a distance of 10km. Before the said event, Nike Training Club will hold two training sessions to prep participants up for the run. The first training session actually happened last night at the Ayala Triangle Gardens in Makati. That session was exclusively for the women. Read on to know more about what transpired that night.
Earlier that day, I got a text from RunRio to remind me about the training session which was set to start at 6pm. Upon arriving at the venue, I was greeted by a cool set-up, with a stage and DJ stand and photo walls. Turns out, Nike decided to make quite a shindig of that night's training sesh.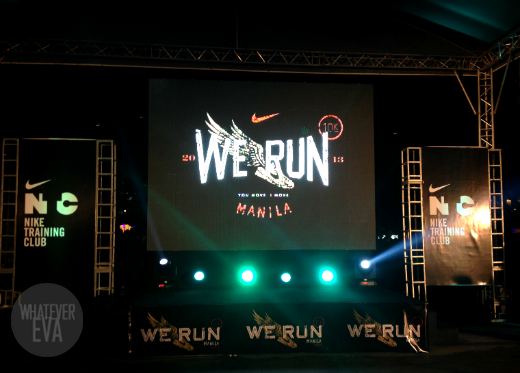 The event started with a short video presentation and an introduction of that night's special guest: Allyson Felix. For those who don't know, Allyson Felix is a four-time Olympic gold medalist for track and field. I actually got starstruck seeing her onstage, she's such an inspiration. Allyson delivered a quick message, and the training session followed shortly led by trainers Gretchen Ho and Tata Garcia. We were led into circuit training, a series of warm-up drills and workouts which were basically leg-killers. LOL. Just kidding! But I swear, I worked up a lot of sweat. It was a good workout.
Check out the cool backdrop!
OMG!!! I was really starstruck that night. Haha
Tata Garcia and Gretchen Ho, both were absolutely stunning! :)
Upon registration, the participants were assigned teams, red and blue. I attended with one of my girl friends, Lei, who will also be my buddy for the Nike run. I was assigned to be on the blue team while she's on the red team. After the workout, we were led to a short run led by coaches, Coach Rommel for the blue team and Coach Rio for the red team. We went on two separate routes, met-up with our buddy at a designated spot, and then continued the run together. After the run, we were given refreshments: bottled water, Gatorade, an Oreo snack pack, and a piece of banana. And then we had a quick cool-down to wrap up the night. Oh, and there were also some photo ops with the coaches and guests.
fan-girling Coach Rio, hahaha (pwedeng kiligin?)
selfie shot with my running buddy
I was wearing Nike from head to toe that night: dri-fit tank, dri-fit running shorts, cushioning socks, and my fave Nike Air Max + 2013. Thanks, Nike! Chos lang. Haha. After the training, Lei and I had a pig-out session at Krocodile Grill in Greenbelt (hello, rice and lotsa sisig) but you didn't really need to know about that! Hahaha!
Anyways, it was a fun night.
The second training session will be held on November 13, 6-8pm at the SM Mall of Asia grounds.
I would recommend that you attend, as it was definitely more than what I expected. Kudos to the organizers, Nike and RunRio!
The registration for Nike We Run MNL 2013 is still ongoing. You can register online here and for FAQs, just click here. The registration costs Php.1700 which is already good for two people. Like I mentioned earlier, it is a buddy run. You can use a credit card or buy prepaid cards at Nike outlets. Nike We Run MNL 2013 will be held on December 1, 2013, 4pm at Marikina Sports Center. I've already registered and I'm sooo excited. See you all there! :)