Race Report: New Balance Power Run 2013
Last November 10, 2013, New Balance held its annual running event, the New Balance Power Run, held at Bonifacio Global City, where thousands of runners participated. There were three categories: 10km, 16km, and 25km. I signed up for 16k, my very first one.
A week before the race, my right knee started aching after a solo training session but I didn't care anyways. I didn't even have it checked. Please please please don't be like me. Hahaha. Okay, so on race day, I woke up early way ahead of my alarm. I did some prepping, some stretches, and applied Bodivance Workout Cream on my legs. Tried out the cream for the first time. I had a quick breakfast of milk and bananas. I then headed to the venue and crossed my fingers for a safe and injury-free run.
my race bib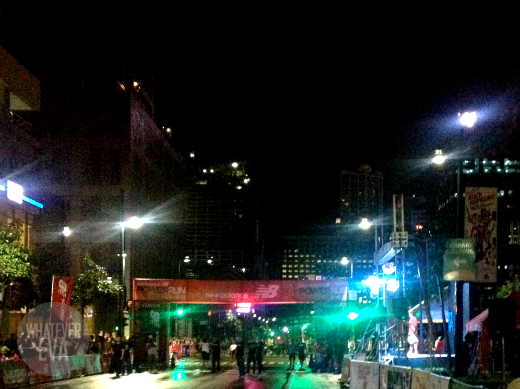 what I was wearing:
New Balance Power Run singlet
Nike shorts
Nike dri-fit cushioning socks
Nike Air Max + 2013
finished my first 16km run
My calves started aching during my first two kilometers and I decided to walk it out a bit. But then the more I walked, the more it ached. So I ran again and eventually, the pain was gone. I dunno if it was the effect of the cream or something. Oh well. Halfway, I started feeling the pain in my knees so I alternately ran and walked. Finished it with a slow 2:20:20. That was waaay too slow, but then again, I was kinda injured. Teehee.
Now, as for the event... There were lots of hydration stations during the race. There were even bananas. There wasn't much in the loot bag: just some pamphlets, vouchers, a bottle of Gatorade, and water.
I've been hearing and reading some comments that a lot of 25k finishers didn't get their medals. Uh-oh, not good. But they were promised that they will still get it so I hope the organizers stayed true to that.
Anyways, the run was still a great experience for me.
I had fun and I was able to push myself beyond my limits. And I promise, I will get some rest and train harder, and then come back stronger. 'Til my next run, loves. :)