Race Report: Rexona Run to Your Beat 2013
It's high time that I blog about the Rexona Run to Your Beat 2013 which was the second running event that I joined this year. The first one was the Run for Pasig 2013. I didn't bother blogging about that since there wasn't really much to tell.
Anyways, back to this event. Rexona Run to Your Beat 2013 was held in October 20, 2013 at the SM Mall of Asia Grounds. I signed up for the 10k category. My preparations for this event were nothing special. I mean, I regularly run at least three times a week and do some strength training on the other days to keep myself fit. So that was that.
The day before the event, I practically pigged out on pizza, and then hit the sack early as assembly time is 3:00am and gun time is 3:30am for 10k runners. I was supposed to run with one of my friends at work but he wasn't able to make it so I ended up going to the event alone. Come race day, I woke up around 1:00am, did some prepping, and had a quick fix of milk and bananas.
race bib with timing chip, check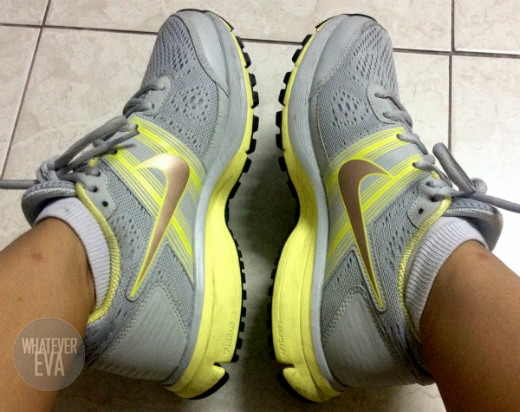 running shoes, check:
Nike Air Pegasus + 29
wearing
Rexona singlet and Nike dri-fit running shorts
ginormous eye bags, check (hahaha)
The biggest race (21k category) started at 3:00am with a bang, literally, because other than the traditional gun shot, the race also started with a fireworks display and with Sandwich playing their hit song "Sugod". It was the perfect song for that moment. I got really stoked and I couldn't wait for the 10k to start. Finally, 3:30am came and the gun shot for the 10k runners was fired. It was our turn.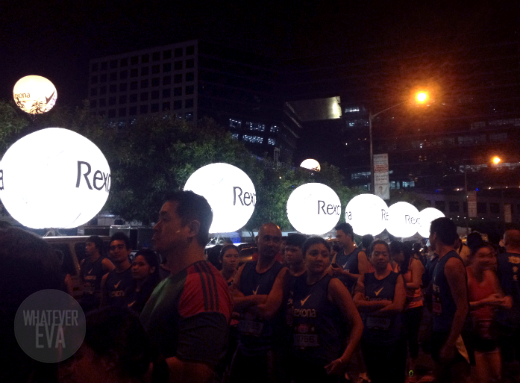 Okay, so why am I looking sleepy here?
I started out okay, I guess. I was doing fine but halfway during the race, I began to feel a little burn in my legs that I had to slow down a bit. I finished at 1:18:14, not my best but it wasn't half bad. Credits to Running Photographers for the photo, btw.
The Rexona Run to Your Beat 2013 got so much hype because the organizers made it out to be one big party and they were true to their word. Throughout the whole race, there was club and trance music playing, and that helped with my pacing (because I'm used to running with music). There were booths strategically placed along the sides of the road with DJs spinning upbeat tracks. They also didn't hold back on Gatorade and water as there was more than enough to keep everyone hydrated. I can say that it was pretty well-organized. Too bad they ran out of glow sticks and I wasn't able to get one. Boohoo. Anyway, the Rexona Run to Your Beat 2013 was truly enjoyable and I will definitely be joining next year. Kudos to the organizers and to all the participants! :)