Teen and Ermin
This is my first ever stint as a (wannabe) make-up artist. And it's for a pre-nup! It's for Teen and Ermin, a quirky couple who's getting married this lovely month of March. Teen, the bride-to-be who's also a colleague, asked me and another one of our office mates, Solyle, to help her out with this. As expected, I jumped at the opportunity of doing make-up. Here are some of the photos.
Save the date. 03-08-2013.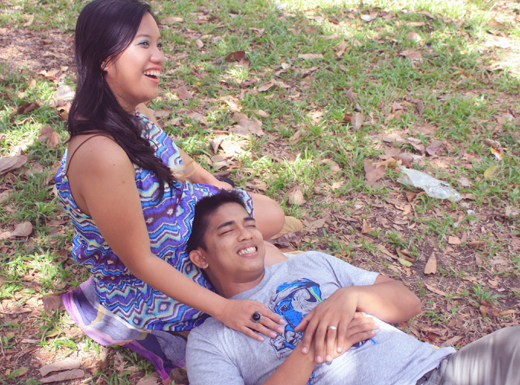 Photos by Solyle Ayson. Post-processing by yours truly. Shot on location at the
UP Diliman campus.
Oh, and the last two photos were also by me. Mehehe. My shutterbug self just couldn't resist taking a few snapshots so there. This was such a fun shoot, we were laughing most the time. I think I did a good job here (gives self pat on the back). Let me know about what you think of the whole look and of these photos. Comments are very much welcome. :)