Wearing cartoon character shirts somehow never fails to bring out the kid in me. You know, I've always wondered when I would stop dressing up like a tweener, and dress more like an adult. I mean, sure, a lot of my outfits are kinda "grown-up-ish" especially my work clothes but I admit that I do have this tendency to dress up like someone in her teens, about to go to the mall or something. Take this outfit for example.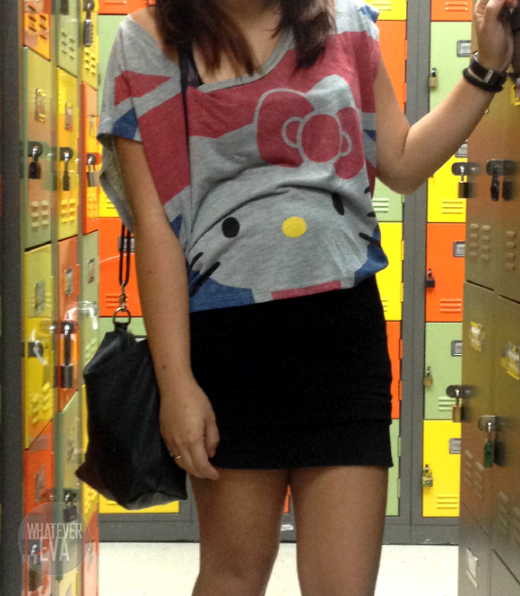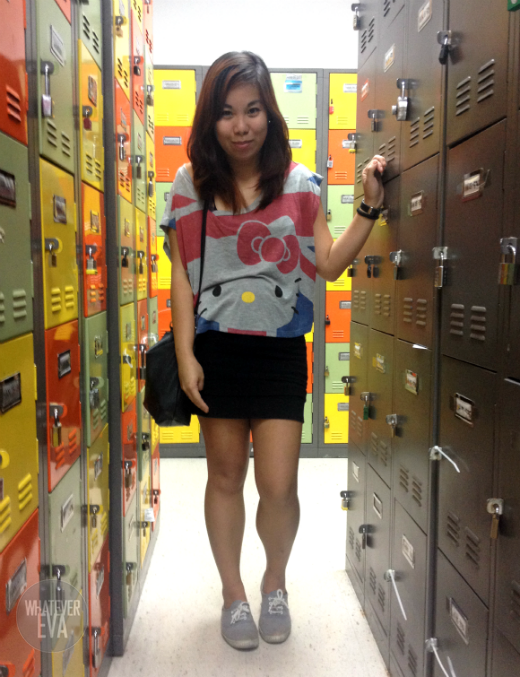 Shirt from Forever 21
Black body con dress from Forever 21
Sneakers from Flossy
Bag from Secosana
Don't you just lurrrve my Hello Kitty shirt? It's my new fave, I'm actually thinking of other items to pair up with this shirt as I'm typing this right now. LOL. This photo of me, with all the lockers and stuff, kinda made me wish I am back in school. Back to where all things seem less stressful. But then again, hell week is called such for a reason. Oh well. If you're wondering, this photo was taken inside the locker room of our office. So yes, I actually wore this outfit to work. Hahaha!
I'm not used to wearing sneakers but I am starting to love it. I dunno why. Maybe it's because they're super comfy and I feel like running or skipping whenever I'm walking in them. I should wear sneaks more often. Hmm. Whatcha think of this look? ;)